---
Professional Testing
Coldwater & Hillsdale Test Sites

877-868-5445 toll free
517-519-6080 fax

Professional Instruction
194 Creek Road
Union City MI 49094

877-741-8112, toll free office or 517-227-1164
---
*References available upon your request

*All instructors are members of Michigan Driver Training
& Safety Education Association.

*Quality Plus Driver Testing is a division of
Beta Epsilon Corporation.

*Quality One Driver Training is a division of
Derivative Matrix Corporation.

*Both organizations are incorporated by the laws of the state of Michigan.
---
Serving Teen and Adult Drivers
In
Michigan's Graduated
Licensing and Testing Program
---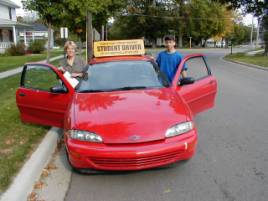 ---
Quality One Driver Training believes that driver training programs should promote safe and defensive driving techniques.
Our instruction emphasizes traffic rules and regulations and provides information about how the driving task is affected by drugs and alcohol.
The highway transportation system grows more complex and dangerous every day. New drivers need to be taught modern techniques that teach safe driving habits and attitudes, perception, and space and time management.
All instructors are third party tested and teach the principles of the third party road test.
---
Quality One
Offers driver training classes in accordance with state laws and operates under the authority of the Michigan Department of State and the State Board of Education.

Our instructors are state licensed and driving records are on file for public inspection by appointment. Each instructor receives regular training to stay current with changes in state law.

Serving Teens and Adult drivers in the Michigan's Graduated Licensing & Third Party Testing Program.

We currently operate the driver training programs for Athens Schools, Union City Schools, Tekonsha Schools, St. Phillip High School in Battle Creek and provide programs at Bronson High School, Coldwater High School, Quincy High School and the Doyle Community Center in Sturgis and are under consideration for a number of other school systems throughout southern Michigan.

You are welcome to attend any of our classes at any time, without prior arrangements.
---
---
Charges for our services are:
Segment I         $320.00
Segment II        $ 45.00
Optional Segment II Evaluation drive    $ 50.00
Adult driver instruction $50.00/Hour + Gas Stipend
Third Party Skills/Road Testing
Automobile $50.00
Motorcyle $30.00

Call for full fee & refund policy
Call or write for current class offerings in your area. New classes forming every month in every location.
---
.
Updated June 15, 2006.
All original graphics copyright of WebWorkOne.

Support freedom
ANTISPAM EMAIL SCRAMBLING SITE